Company
Nustri company was born in 1970 as a builder in industrial ironing equipments for knitwear factories, ready-made clothes, laundries, hotels, hospitals etc.
Our thirty-year experience, the necessity to be in the forefront in our field and the need of a more and more competitive market have carried us to constantly improve our production, integrating it with new machines and renewing it in the long run. These are the reasons why today we are able to furnish to all our customers a wide range of high quality products advising them for the better solution and a very good technician support both in Italy than all over the world.
Our machines builted with first quality materials, are complete of CE - Conformity Declaration and of a very easy instruction manual for installation and switch on.
Our grid distribution , both in Italy than all over the world , is composed of qualified distributors of which, on demand, you can get name and address.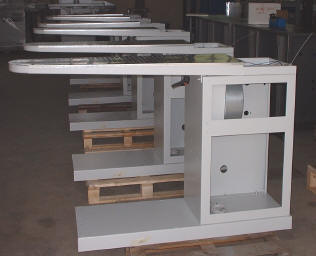 Our operating seat and our office are placed in Signa - Via dell Mora,7 ( Florence ) .
Our range of products includes: